Maureen Hilyard
Nominee details
Title

Ms

Name

Maureen Hilyard

Position

Development Consultant

Organization

Cook Islands Internet Action Group (CIIAG)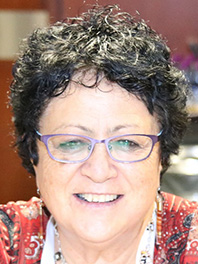 Biographical info
Maureen is the President of CIIAG and an active advocate on behalf of internet users in the Cook Islands. She was on the Board of the Pacific Islands ISOC Chapter for 6 years and Chair for 4 years and remains an active member with a strong interest in raising the level of knowledge and capacity among our growing internet community in the Pacific. APNIC has been a regular technical training provider at their annual PacINET events in various countries across the Pacific. Maureen is in her second term as a member of the ALAC of ICANN and is the ALAC's liaison to the ccNSO, as well as being on numerous committees to support the work of the ALAC within the ICANN system. She is an active member of the regional organisation, APRALO, which has established an MOU with APNIC in order to promote the benefits of APNIC's information and technical services among the APRALO member organisations. APRALO is now a member of the AP* community. Maureen is a Director of the Dot Asia Board and a member of the Public Interest Registry NGO Advisory Council. She is associated with a women's owned satellite company (OWNSAT) and is a member of the DNS Women's Entrepreneurship Initiative. Maureen was first introduced to internet governance and global IGFs through her studies with the Diplo Foundation and continues to maintain this interest through her involvement on the Management Steering Groups of the APrIGF and the APSIG. She is also a member of Diplo's Pacific Diplomacy in Geneva programme.
Nominee's statement
APNIC has been an important part of the work that I have involved in within developing economies in the Pacific to encourage growth of knowledge and understanding as well as technical expertise in relation to numbers and standards. While enhancing the capacity of our Pacific communities is my strong focus, my regional involvements also extend out to the wider Asia Pacific region and beyond. I bring experience as a Pacific leader in internet governance along with strategic and project management knowledge and skills to the work of the Executive Council for the benefit of the whole Asia Pacific region.
---
Nominated by
Organization

PNG University of Technology (.PG ccTLD)
Motivation for nomination
We are very happy to nominate Maureen for the Executive Council for APNIC. Members of the Pacific community have valued her work in PICISOC and ICANN to support the development of the Internet and Internet governance within the Pacific region, and we believe that she can add value to discussions to further the work of APNIC within both the Pacific and the wider Asia Pacific region.