Izumi Okutani
Nominee details
Title

Mrs

Name

Izumi Okutani

Position

Policy Liaison

Organization

Japan Network Information Center (JPNIC)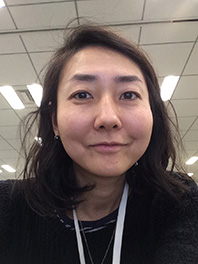 Biographical info
Izumi is a long-standing member of the APNIC community since 2000. She has made contributions to the Internet communities at the national, the regional, and at the global level.
As Policy Liaison, she has contributed in activating discussions in the Japanese community on number resources policies and coordinating with discussions in the APNIC region over 15 years.
She has deep knowledge and expertise on the day-to-day number resources services as well as its policies in the APNIC region, and globally, through her regular participation in other RIR meetings.
As some examples of her policy coordination, she has worked on coordinating IPv4 transfer policies between Japanese and the APNIC community and have developed a framework of IPv4 transfer services in JPNIC. She is an author of the global policy of the last IPv4 distribution, which has set the ground for the final /8 policy in the APNIC region.
On technologies using number resources, she has coordinated with the engineers in JPNIC and global experts in raising awareness about RPKI in the Japanese community, supported organising RPKI workshops at JANOG and in APNIC meetings. For IPv6, she has served as a Coordinator for Best Practices Forum on IPv6 for IGF2016, together with Sumon Ahmed Sabir, compiling case studies from different regions to target policy makers and business decision makers. She also serves as a volunteer for the internationalization of JANOG.
In 2014-2016, Izumi served as one of the CRISP Team members from the APNIC region and was appointed as the Chair. The CRISP Team consolidated proposals from each RIR region into a single global proposal for the Number Resources Community. As its leader Izumi has coordinated with other community leaders for the global Internet community on transition of the IANA Stewardship from the US Government to the global Internet community. This has won her ICANN Leadership Award in 2016, with Nurani Nimpuno the Co-Chair of the CRISP Team and other leaders of the Operational Communities.
In recent years, her field of activity expanded even to ICANN, ISOC and Internet Governance arenas. Her activities and performance have been highly recognized throughout the global Internet community and she is often appointed in key positions including Co-Chair of Advisory Council of Internet Society. She serves as ICANN's working group on Enhancing ICANN Accountability as an ASO Liaison since 2015.
NIR SIG Chair: 2005 to 2013
JANOG internationalization (i18n): 2013 onwards
Internet Governance Forum Multistakeholder Advisory Group (IGF MAG): 2013-2016
ISOC Organizational Member Advisory Council: 2013-2015
Consolidated RIR IANA Stewardship Proposal Team (CRISP Team) - As a member from the APNIC region and the Chair: 2014-2016
ASO Liaison for Cross Community Working Group on Enhancing ICANN Accountability: 2014 onwards
IGF IPv6 BPF Coordinator: 2015-2016 (With Sumon Ahmed Sabir in 2016)
Nominee's statement
The APNIC community is one of the most diverse communities, in terms of the languages, culture and the level of the Internet development, which is what makes us interesting.
It is great to see various NOGs starting up or being more active in the recent years and more participants from these NOGs joining us in the APNIC community.
I have been engaged in JPNIC, many of the areas of core activities in common with APNIC, in addition to the number resources services, such as promotion of technologies such as RPKI, DNSSEC, IPv6, as well as capacity building activities such as tutorials and hands on workshop, as JPNIC has a lot on common with these activities at the national level. I also understand the challenges observed at the local level which may not be always the same as what is observed a whole region, as every economy have its local environment. Further, I have perspectives on how the APNIC community is seen from the outside, with my activities which needs coordination with other communities, as the Chair of the CRISP Team on consolidating the number resources component of the IANA Stewardship transition proposal, and serving as an ASO liaison in Working Group to enhance ICANN Accountability.
The environment within the APNIC community, as well the wider environment surrounding us is constantly evolving but what I believe should remain consistent is the spirit of being inclusive bottom up and open, decentralised collaboration, as well as being practical, and work together for smooth running of the global Internet. I would now like to contribute my experiences to the APNIC community by serving as an EC member.
---
Nominated by
Organization

Japan Network Information Center (JPNIC)
Motivation for nomination
Ms. Izumi Okutani's leadership and commitment to the APNIC and the wider number resources community is proven from her various activities.
She has trust from the community members at national, regional and global level. She has been contributing to bring voices of the local community to the APNIC region in a very balanced manner. Izumi is open to listen to opinions of both new and long standing members of the community. She is constantly considering what would be for the best for the community overall. Once she servers in a position, her commitment and leadership is proven through her serving in various positions representing the community.
Ms. Izumi Okutani has practical field knowledge about Number Resources Services as well as Policy and other APNIC forum. At the same time, she possesses wider perspective on where APNIC activity sits in the Internet Echo system through her global activities and engagement in communities outside APNIC. While her expertise is on policy arena, she has strong interests in keeping track of technical discussions. She regularly participates in operationally focused sessions at APNIC/APRICOT, RIPE, NANOG and other operationally focused meetings. In parallel to being involved in these activities, Izumi has maintained her commitment and regular active participation in the APNIC community.
I am more than confident that the APNIC Executive Council will enjoy her competence in the IP Numbers Policies, Internet Coordination and Governance with extremely high recognition throughout the global Internet Community. At the same time, she is staying strongly engaged in the APNIC community. I strongly believe that Ms. Izumi Okutani's rich experiences and expertise in those arenas, and her commitment to the community will contribute to the APNIC Community.
---
Nominated by
Organization

Vietnam Internet Network Information Center (VNNIC)
Motivation for nomination
Mrs. Izumi Okutani is such an example of what I call an industry enthusiast who takes a very important part in the Internet industry not only in Japan, but in the international scale as well. She has devoted significantly to the development of Internet in the region, especially the communication among the various organizations she has served.
JPNIC and VNNIC signed our MoU in 2013, since then we have established such an strong and delicate relationship via different activities, all thanks to the coordination of Mrs. Izumi as the liaison of JPNIC.
I believe that with all the experience and knowledge in the field of addresses and numbers resources as well as internet policies at regional and global level, Mrs. Izumi would definitely continue her valuable contribution to the APNIC EC and community.